Tom Decker
Owner / Instructor
Karen Decker
Owner / Instructor
Milt Grieser
Classroom & Behind the Wheel Instructor
After retiring from military service as a recruiter for the armed forces, I began working with the driving academy to stay busy. I continue to work with the academy because it is enjoyable to help students learn to be defensive and drive safely. Milt and his family resided in the Merrill area.
Jim Wilkerson
Classroom & Behind the Wheel Instructor
Jim is a retired air traffic controller and if anyone needs to teach safety as the number one priority he is the man. He has worked at two international airports in his career and brings to the academy another piece to help your young driver be safe and alert. Jim and his family live in Kronenwetter
Victor Voight
Classroom & Behind the Wheel Instructor
Vic is a retired teacher from the Mosinee School District and was the driver's education instructor before they retired the program and then became the physical education teacher. He brings years of experience and the ability to communicate with students and show the importance of being alert in our community while driving. He will be instructing in the Mosinee area.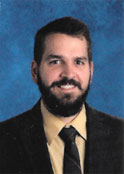 Brad Kafer
Classroom & Behind the Wheel Instructor
Brad and his family moved from Bloomington, IL to Wausau where he was a driver education instructor for the high school. He understands the importance of being a driver in our society today, as well as being safe and courteous with a vehicle and defensive as a driver. He is also the principle of an online parochial school. Brad and his family reside in Wausau.
Brent Brooks
Classroom & Behind the Wheel Instructor
Brent came our way as his hometown needed driver's education as they lost their instructor. He wanted to bring to his community a sense of reliability since students were waiting longer then 6 months to finish their program. With his drive and flexibility Brent makes a wonderful addition to the Academy and will help students become the best drivers they can be. Brent is also self-employed; he and his family reside in Spencer.
Bonnie Decker
LIVE Answering Service
Bonnie or MOM helps us with overflow phone calls or when we are busy in the classroom or behind the wheel instructing. People like you, like talking to someone, other then leaving a voice message. Bonnie helps us with that personnel touch you get with talking with a live person and not having to leave a message. Please be nice to MOM and speak up as she lives in Tomahawk. LOL (Since cell phone service can be a little temperamental, she may call you back on her land line.)